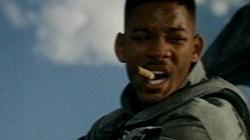 Independence Day (1996)
Required:
Capture one of their ships, design a computer virus that will somehow work on alien technology, pilot the craft up to the alien mothership, and infect it. Nuke away.
Recommended:
Conventional weapons would probably do the trick after their defenses are down, and nukes will only serve to further damage the planet.